2012.07.31
Hot Sapporo!
Day more than 30 degrees Celsius is the fifth consecutive day of Sapporo. It may not be great thing, but person from Sapporo is slightly getting completely exhausted to house ino everybody a little in Honshu.
Live crab which is received every day. In hot season, hair crab, temperature of water tank of blue king crab are careful not to rise every day. (we keep water temperature 5-7 degrees Celsius)
We have days of "consideration not to give crab stress to be able to give to coming customer in the best state in crab!".
2012.07.11
Blue king crab, it held.
Hanasaki crabbing of Nemuro lifts the ban. Blue king crab of 1kg size arrived.
We think with body to be able to be pleased well.
As most do not enter yet, we would appreciate notification of confirmation before visit.
2012.07.02
Blue king crab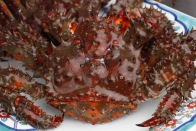 Live no blue king crab entered.
Size of 500-600 g of one of them. kennyu riga has not maintained the same yet, and guidance to customer seems to become slightly earlier. (as hit loser is big)
We pray for arrival of good blue king crab every day while communicating with production center.