2012.11.22
We had homepage for sumafo
Homepage for sumafo improved at 22:00 on November 22. Is it slightly heavy? Because we link PC version homepage? Place where we move in various ways and check and can be improved wants to revise. If you see, and there are aware points, customer would appreciate your informing of email, etc., too.
2012.11.12
boshinnenkai profit information
We put advantageous information of boshinnenkai on top page. The gate of ice, the snowy gate improve new work on November 15. Status of calendar is going to improve again (as for the seasonal lunch, latest) on November 16.
Forgive half-finished place.
2012.11.11
Beautiful weather!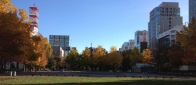 It is clear this morning!
Blue sky after a long absence exceptional in blue sky, that!
Colored leaves of main street park are at the climax now, too.
We give up because tree of ginkgo ... of main street park which we wrote the other day wanted to take in state that the sun goes up a little more, and shined for light, but is going to our office.