2013.02.28
It is ... in March from tomorrow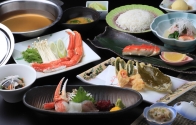 Yesterday, to temperature positive today and the highest temperature. At last we feel sign that approached in spring
Warmth ..., forecast ..., the snow removing expense of Sapporo-shi that will be very rough again the day after tomorrow from Saturday is additional 2 billion yen again. There is really much snow this year. Bellyful is already obedient feeling.

Seasonal course, seasonal lunch are replaced with a new one from tomorrow.
Delicious course & lunch of the springlike clothing. We think that you can use casually.

The arrival of Daikoku hair crab of Akkeshi still. We entered at early February in usual, but it is stormy, and, also, there is little large crab, and a lot of no days do not still enter. Is it the end as it is?
We report as soon as we enter.
2013.02.15
Spring long in coming!
The end of the snow Festival.
We appreciate your coming to the store to many customers.
Offer of dishes is not smooth during period, and forget order; and ...
We do itadakenakkatatokoromoario apology satisfied with some customers and reflect and will make use in the future.
We had you fill a lot in "happy message", and crab sashimi had a lot comment that impression, shabu-shabu were delicious, and became glad from taste of charcoal making king crab for the first time.
We will try so hard that you are satisfied with more delicious crab dishes.

Spring course & lunch is March 1 start.
Farewell party, reception, graduation, entrance to school, transfer ..., encounter and parting season.
We think that memory can use for left seat by all means.