2013.03.30
Akkeshi Daikoku hair crab entered!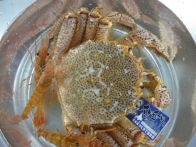 Hair crab entered at Akkeshi every year from February, but this year of drift ice, the sea at last entered at last week without being stormy, and there being fishing. The end of fishing is the middle of April. Daikoku hair crab is brand hair crab about 1kg. It is eatable with the remainder as bamboo steamer steaming to wash the hands. It is a few periods, but prepares to be able to be pleased with customer.
Considerably with high stocking level than last year, but is seasonal thing. You can enjoy for one 9,900 yen.
2013.03.12
Live peony prawns of eruption gulf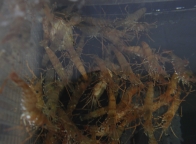 Peony prawns arrive from eruption gulf of Southern Hokkaido.
Model is not big yet, but is appearance of spring messenger the same as in the past!