2013.04.28
It is open without taking a rest for Golden Week
Temperature is low by weather forecast and is cloudy weather, Sapporo of rainy Golden Week.
When are cherry blossoms flowering? Recent temperature to think of this. We pray that winter is long, and a lot of snow wants you to be warm early this year.

There is not special plan that we matched for Golden Week, but we prepare well to be able to eat delicious crab dishes and look forward to visit.
We open from 11:00 p.m. Please come to the store.
2013.04.07
Aspect of crab

We made aspect of crab in the autumn of last year. It is type to put on the head.
We considered that there was not pleasant thing which a lot of photography of customer who came became in commemoration of something and made aspect.
Child is interesting at the time of visit when we see. As for customer of ..., Thailand foreign customer is come to, to cover with for hand immediately, Taiwanese customer, Asia, it is eaten with paste putting on well. (slightly strange (laugh)) of course taking a ceremonial photograph has cover, too. Present to grandchild has customer of age.
We think if we can publish photograph of everybody in "happy message" that delightful. If there is saying photograph, please send customer dekorehato which came by email. We publish.
2013.04.01
Information for new menu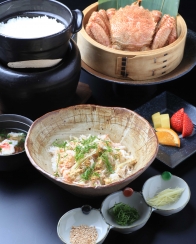 "Luxury hair crab bowl" is appearance from today.
It is bamboo steamer steaming of Live hair crab and contest of yumepirika.
It is bowl wanting you to taste by all means.

For more details, please see lunch menu.