2013.05.31
It is another June with early thing!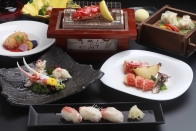 It is June already. In spring? It is these days of design in the summer at a stretch.
Start ... is already in such a season the venue construction of yosakoi this morning if go along main street park; or ...

Summer seasonal course, lunch are replaced with a new one.
We think that we are refreshed and came by delicious shiio expression.
In addition, we added two kinds of Delicious series to lunch newly.
We want to eat crab! It is lunch which is recommended to person saying this.
2013.05.18
Cherry blossoms bloomed
At last cherry blossoms finally bloomed.
Maruyama-koen Park will show turnout today tomorrow.
As for the cherry blossom viewing of Hokkaido, Jingisukan is standard under the cherry blossoms. Cherry blossom viewing does not go for a long time, but is weather that sometimes breathes fresh air, and wants to be refreshed.

The current season is Toki Shiraz. That June began in the golden age and it was after, had the name of Toki Shiraz in crop of out of season of white salmon. It is said that thing of the Hidaka Erimo offing is good.
Nutrition has its salmon stolen by ovum, sperm to leave descendant, but is delicious salmon which nutrition goes, and the present salmon lasts for the body, and fat appeared in in autumn. nigirino salmon enthusiast wants to have you taste Toki Shiraz by all means. Of course foods grilled with salt are delicious, too.
It is said that delicious Toki Shiraz is eaten if it is major shrine feast day (Hokkaido major shrine) in Sapporo from the old days.
2013.05.07
Chilly day continues
The Golden Week end!
Golden Week for one day without sunny interval. Meanwhile, you come, and ... that cold day continues, and heater is not cut off offers my gratitude for many customers.
In addition, we had a lot "happy message" and had vitality of spirit including reflection point.
When are cherry blossoms? Days of low temperature that seems to influence growth of farm products. It is Sapporo long in coming early that becomes warm.