2013.06.30
Another July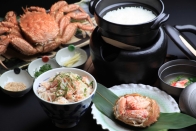 June is finished in no time. It was company-like sightseeing tour, invitation trip ..., busy June. We appreciate visit.

Can you order Delicious lunch which started in June with slightly high lunch? We thought of this, but most customers are surprised with Delicious lunch a little recently. We reflect that our belief did not match request of customer. Become contents with a feeling of merit more
We feel that more effort is necessary.

In addition, as for the order for luxury hair crab bowl, there is not order as I expected, but I am impressed deeply with this product. Surely we believe that fans increase.

In July, there is summer vacation, too, and the use of family with child will increase, too.
Before visit of seat recommend making a reservation.
2013.06.10
Hot day continues
Rain was on what day regularly, or there was at the time of festival of so orchid which had thick usual good point, but summer weather continued without it never raining this year.
Fine weather which is all clear today from morning. Temperature gradually rises, too.
It is fact that human being of ..., Hokkaido is relatively weak for heat when we are used warmly early and are hot ... when it is cold. Commercials of air conditioner increase recently in TVCM of electric general merchandising store of local Sapporo. ・・. that there was not much CM of the past air conditioner ... which became hot this year from heat of last year
We ask for canned foods of white asparagus in usual, is growth bad harvest at low temperature until last month this year badly? It is these days slightly anxious.