2013.08.12
Blue king crab was produced!
There was communication when we sent blue king crab about 900 g today (August 12) from Nemuro.
We are in time for business on August 13.
2013.08.11
There is no arrival of blue king crab
Big blue king crab of model came to finally enter and had customer please, but there was communication from Nemuro when we reversed ourselves, and big blue king crab was not produced for these past several days.
Big thing of influence of weather or model is stable and does not seem to be produced this year. We ask to have you send as soon as you are fried. We have you look forward to with much effort and feel that I am sorry to customer of visit.

There is little fishing, and Live hair crab soars, too. In this summer, something is strange.
2013.08.09
We have you please with bamboo steamer steaming of blue king crab.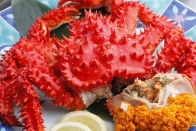 August began, and thing which model of blue king crab had a big came to arrive from Nemuro.
Dark brown that blue king crab giving life to is near black. Red that is beautiful when it is sultry and gets nervous.
At first it is surprised at change of color, and customer has you please with heavy taste if different from hair crab.
no hair crab live than July is soaring. Think that have effect of weather, but recently normal double price. When it is the Bon Festival, it seems to become higher.
It is price that is severe for shop, but course price just provides with an effort. (we want you to be stable early)