2014.01.30
Announcement of storytelling society of the corner shop of eel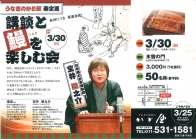 It is announcement of the second storytelling society.
Sunday, March 30 12:00 - o: Hyousetsu-no-mon
 kodanshitakaraishunkorekai 
It is plan to have you enjoy with storytelling and delicious unaju.

For more details, please refer.
2014.01.28
About menu of snow Festival period
It was season of snow Festival.
We have making much reservation and offer my gratitude.

Recommendation (the gate of ice, the snowy gate) that it is in season to perform administration of cooking smoothly, seasonal lunch
We are absent from 3 course of this during from February 4 to February 12.
We would appreciate your understanding.
2014.01.06
The New Year is ... like swift horse, too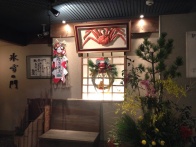 I am sorry without being able to update information for news for a while.
You come, and thanks offer my gratitude for customers more than the middle of December situation ... that private room is buried because of making a reservation as for the New Year holidays with grace state some other time.

It became late
 A Happy New Year.

We look forward to all the staff, visit of customer this year when we want to work hard at delicious crab dishes still more for one year.