2014.04.12
The end day of Daikoku hair crab
We heard from Akkeshi fishermen's cooperative association, and the closing of the fishing season day of Daikoku hair crab of this year seemed to be fixed at April 20.
Customer wanting rise to call, please contact.
We offer and wait for visit.
2014.04.04
There is Daikoku (Daikoku) hair crab case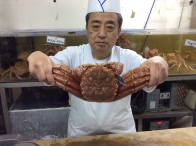 It is Ryoshi selected brand hair crab of 1 kg of size to be produced around Daikokujima from Akkeshi fishing port.
Do not readily enter by unseasonable weather this year; from Shiga, the end of last month at last smoothly.
But it is considerably higher than usual. We offer at ordinary price last year with an effort.
For time, we are coming to an end soon.
It is hair crab only for this time. Please have.