2014.07.23
From Nemuro blue king crab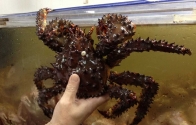 It became slightly later than usual, but blue king crab arrives from Nemuro.
We lead and put blue king crab from Russia, but are from Nemuro from this week.
Model is slightly larger than 1kg. With body has you please with customer well, too.
We are going to follow until early September.
Please appreciate on visit.
2014.07.01
I am sorry without updating news
July began.
We hear Hanasaki fishing of Hanasaki, Nemuro fishing port from past 10th with public performance, but blue king crab from Russia is irregular, but, by goodwill of supplier of Nemuro, enters.
There is thing of male blue king crab 1kg size approximately ten to water tank of Hyousetsu-no-mon now.
With body is tasty, too. We had customer (the home of Echizen crab) from Toyama tell pigeon if blue king crab was so delicious the other day.
We handle female blue king crab (mother) if it becomes public performance.

There was day without the arrival of Live hair crab without experience so far in June and caused some customers trouble. We think fishing of eruption gulf to begin, and to become stable, but price is soaring now so as to be terrible. We offer precious visit with an effort.