2015.02.15
Daikoku hair crab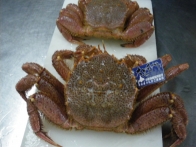 "Daikoku hair crab" (Daikoku hairy crab) means produced fisherman selected hair crab in Daikokujima (Daikoku cane) of the Eastern Hokkaido Akkeshi offing. In hair crab (1kg or more) of big size only for every year this time quality of body, taste together
Good.
Please have!
2015.02.15
Spring when snow Festival is over, and ... is long in coming!
You come and offer my gratitude for many customers during snow Festival period.
Private room is filled up with making an empty reservation and cannot enter some customers and apologizes early.
Group-like visit decreases whenever we chase age, and personal customers increase, and private room feel with lack
We go down. We consider renewal and want to apply to improvement.

Spring is long in coming; these days. This winter might have had more suspension of service of airplane by climate that difference of heat and cold was greatly unstable in than usual, too. We wish that we want it to be spring early.