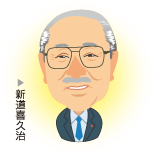 Founding of "Hyousetsu-no-mon" is 1964. It is story before little.
Founder, Kikuji Shindo founded "corner dealer of eel" by soot keno in 1957.
However, in the eel shop, winter is free. We asked every person who met somehow whether there was not material which could pull in customers in winter.
One day after having talk to brother-in-law who did fisherman; "have eaten king crab which fisherman ate at the beach? Delicious! , if make king crab of "straight" charcoal‐broiled and pan, there is not such a delicious thing; as for the one is.
"This may be good!"
Kikuji who flashed so jumped onto train promptly and went to Eastern Hokkaido.

Even if place looks for where in Wakkanai and production center of Northern Hokkaido more Kushiro, Nemuro, king crab is not found at all. Even if restaurant walked around market from the start, we were not found.
Produced king crab does not appear in general market when we hear and is what shut all itself up, and is exported.

King crab was under management control of the government to export to foreign country in canned foods as foreign currency acquisition product precious after the war. Therefore because gross quantity almost canned by the 30, Showa generation, we were caught and were exported.

Net nihikkakarru nuisance handling that it seemed to be rare that expensive "canned crab" enters Japanese mouth, but catches cod which was the main force as the name of "king crab" shows before it. At the time of clogging, there were few even people that king crab did not circulate and knew.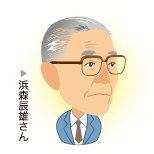 Still Kikuji completely at a loss could not get over and talked with Tatsuo Hamamori of the Mayor of Wakkanai.

When he was member of Hokkaido assembly, Hamamori was acquaintance, Kikuji who had wedding ceremony attend in Sapporo.
Then Mayor Hamamori introduced President Okamoto of one (mataichi) industry again.

In addition, it was supplier of Wakkanai that one industry displayed shoulders in major company from the times when king crab was under management of the government, and sold king crab.

In addition, king crab which we searched so much and were not able to find one was loaded like mountain in big factory when we asked one industry. And we ate king crab of "straight" for the first time.

Delicious!" Kikuji inspired by the taste wanted to make shop which could give this somehow or other.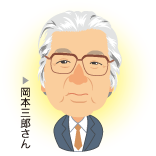 We were able to hear story from Saburo Okamoto who was one industry executive managing director at the time of in sons of President Okamoto again last year.

"One day Mayor Hamamori and Shindo come over say, "we want you to distribute king crab". We did talk that we sold king crab other than the canned foods for the first time and were surprised.

We heard, "we carry how" and say "is it not so all right if we pack in ice so in this way?".
I see. It is dangerous by freezing at the time, but even packing in ice is surely all right to Sapporo, and the is good for quality. We were surprised that we were thinking to there.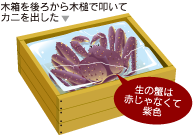 Packing in ice took effort and there was little quantity and it was story that was not dealt in, but it was advertised Wakkanai and was to have possibilities to be interesting by new challenge if we made house.

Therefore story to "make shop which king crab could eat anytime in Sapporo" though it was thing not to eat very much in hometown either was epoch-making. Everybody sympathized with such a romance at that time"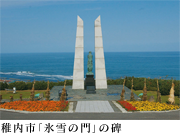 Way to king crab was opened in this way.
We study recipe of king crab from there and look for store when we have confidence.

After prospect being in sight, and reporting to Mayor Hamamori, we gave store's name by handwriting saying "we should do in the name called "Hyousetsu-no-mon" because it was shop which handled king crab".

"Hyousetsu-no-mon" which is known to the whole country as memorial service monument of death in battle young girl seeing Karafuto from small hill of Wakkanai far. We gave mere restaurant this venerable name with expectation.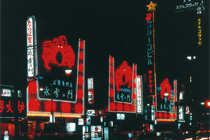 It is 1964 in that way.
"Hyousetsu-no-mon" started as store specializing in one national just king crab dish in basement of building of soot keno.

As for the king crab dishes which symbolized Hokkaido, person of Sapporo called for reputation from tourist from the start, and the shop of 30 tsubos became small immediately. We get 2-story shop and, three years later, move to the current ground.

The times are right the period of the high growth of economy. "Hyousetsu-no-mon" becomes that we meet sightseeing needs to upsize and we do soon and next enlarge annex. Furthermore, we open new building of the theater restaurant form to have you do meal while also enjoying so orchid clause and dance in Japan.
Neon of crab that three formed a line became symbol of "Hyousetsu-no-mon".

Customer who popular, still misses those days comes a lot to theater inviting customer who can come from the whole country to meal and dance and witty host.
Current shop made three stores where we lined up aside in 1990 one building.

On the other hand, because Japanese fishing boat had been barred in 200 nautical miles regulation of 1977, king crab crabbing turned into import from the Soviet Union, but it was Soviet Union collapse in 1991, and the situation changed completely.

Contract is not kept, and poaching ship strides. We came to catch to small crab and female exhaustively, and the drying up of resources became remarkable in a short term.

Therefore, in "Hyousetsu-no-mon," we changed mainly on Alaska product for high quality crab and the stable stocking. With thing of Bering sea area, it is high king crab of evaluation most now in market. Resource management is severe, and unloading is permitted only crab which it gave life to in Dutch Harbor of port.

We stock thing which Japanese engineer is resident there and managed from sorting to freeze, boxing.
In late years Russia started resource management, too, but king crab is exposed to decrease in resources and remarkable rises of price now.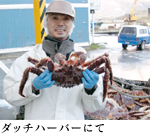 It is said that king crab takes 8 years until we grow up into 2kg size that we use mainly.
In customer, "crab is granted understanding with point called resources" and prays when we can enjoy this taste with for a long time.

Mind of founding will be devoted with employee for "having more customers eat crab more delicious than anywhere else" from now on.

We would like heartily in future to have instruction and patronage not to change.
January, 2012
President Koji Shindo